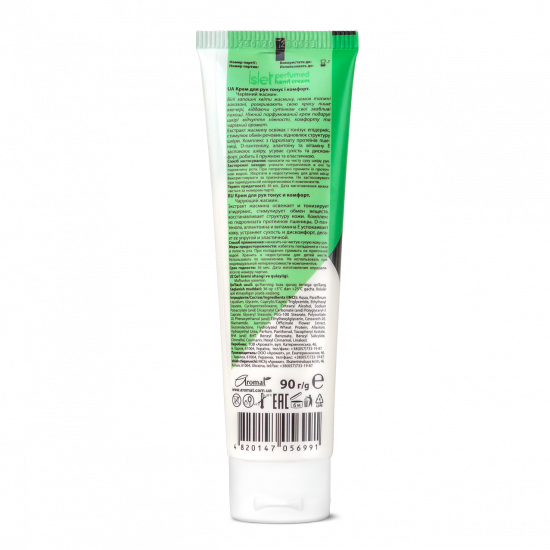 New


Perfumed Hand Cream «Tone and comfort. Enchanting jasmine» Islet, 90 g (100 ml)
The white fragrant jasmine flowers, like secret lovers, reveal their beauty only in the evening, giving twilight their alluring fragrance.
A delicate perfumed cream gives the skin a feeling of tenderness, comfort and a captivating aroma.
Jasmine extract refreshes and tones the epidermis, stimulates metabolism, restores skin structure. A complex of hydrolyzed proteins of wheat, D-panthenol, allantoin and vitamin E soothes the skin, eliminates dryness and discomfort, makes it supple and elastic.
Recommended retail price: 24 UAH
group
COMPOSITIONS:
Aqua, Paraffinum Liquidum, Glycerin, Сaprylic/Capric Triglyceride, Ethylhexyl Stearate, Cyclopentasiloxane, Cetearyl Alcohol, Sodium Polyacrylate (and) Dicaprylyl Carbonate (and) Polyglyceryl-3 Caprate, Glyceryl Stearate, PEG-100 Stearate, Polysorbate 20, Phenoxyethanol (and) Ethylhexylglycerin, Ceteareth-20, Niacinamide, Jasminum Officinale Flower Extract, Gluconolactone, Hydrolyzed Wheat Protein, Allantoin, Hydroxyethyl Urea, Parfum, Panthenol, Tocopheryl Acetate, BHA (and) BHT, Benzyl Benzoate, Benzyl Salicylate, Citronellol, Coumarin, Hexyl Cinnamal, Linalool.
MODE OF APPLICATION:
Apply to clean, dry hands
PACKING:
Bushon polyethylene tube
VOLUME:
90 g / 100 ml
ACTIVE COMPONENTS:
Jasmine extract, glycerin, capric / capric (coconut oil emollient), urea, wheat protein hydrolyzate, allantoin, panthenol, vitamin E
SHELF LIFE:
3 years
BARCODE:
4820147056991