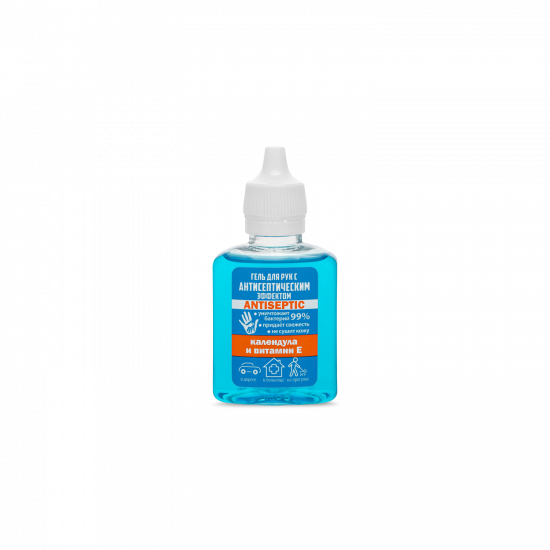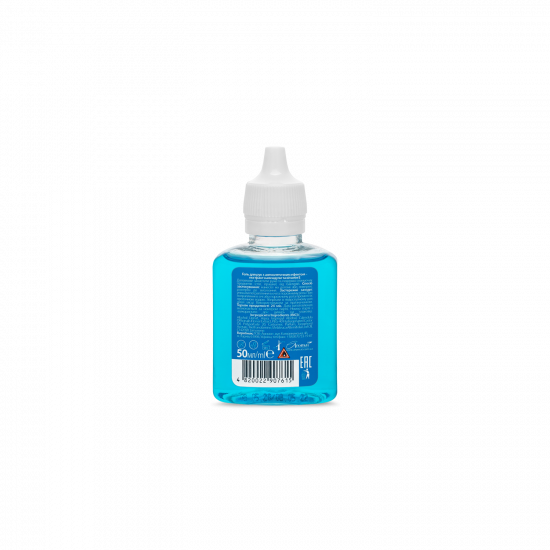 "Calendula and Vitamin E" hand gel with antiseptic effect, dropper bottle, 50 ml
An antiseptic agent, indispensable in transport, when visiting public places, while walking.
► Kills 99% of the most common bacteria.

► Gives freshness without water and soap.
► Does not dry the skin.
CALENDULA EXTRACT has anti-inflammatory, antibacterial, antifungal effects, tones and moisturizes the skin.

An antiseptic has the following properties:

► has a high water-holding and immunostimulating ability;
► ethyl alcohol denatured 60.0% (complies with the recommendations of the WHO) - antiseptic;
► isopropanol (10.0%) - antiseptic;
► benzalkonium chloride (0.5%) - has a bactericidal effect against many microorganisms;
► vitamin E - has an anti-inflammatory effect, protects the skin from a polluted environment, helps to retain moisture in the epidermis, softens the skin;

► hydroxyethyl cellulose - creates the effect of a "liquid" glove on the skin, which reduces the rate of evaporation, prolongs the effect of benzalkonium chloride on the skin surface and increases the duration of the antiseptic agent.
Recommended retail price: 35 UAH
group
COMPOSITIONS:
Alcohol Denat., Aqua, Isopropyl Alcohol, Calendula Extract, PEG-40 Hydrogenated Castor Oil, Polysorbate 20, Carbomer, Parfum, Tocopheryl Acetate, Trietanolamine, Melaleuca Altemifolia Leaf Oil, CI 42090, Limonene.
MODE OF APPLICATION:
Apply 3 ml of gel to hands and rub over the entire surface of the palms, fingers and back.
PACKING:
Polyethylene dropper bottle
VOLUME:
50 ml
ACTIVE COMPONENTS:
► ethylovium denatured alcohol 60.0% (in accordance with the recommendations of the WHO); ► isopropanol (10.0%); ► benzalkonium chloride (0.5%); ► olive oil of the tea tree (0.05%); ► Vitamin E; ► hydroxyethyl cellulose ► calendula extract
SHELF LIFE:
24 months
BARCODE:
4820022907615