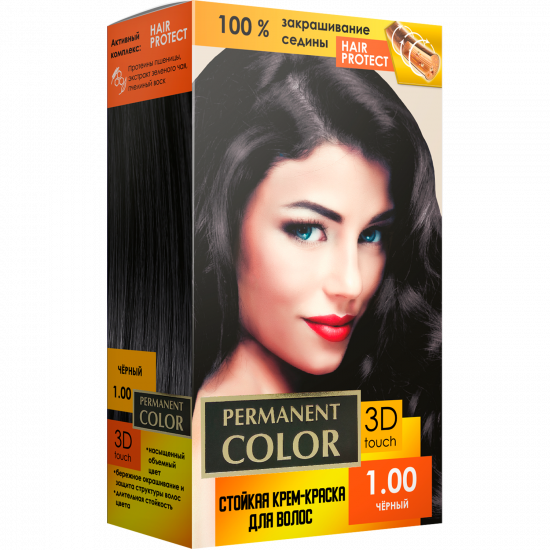 Cream-color for hair with an oxidizing agent "Permanent Color" tone "Black" No. 1.00
Permanent color cream for hair "Permanent Color" tone
Black 1.00
with an oxidizing agent in a set for hair from light blond to dark brown, 100% coloring of gray hair. The staining result depends on the original color.
PACKAGE CONTENTS:
► cream-paint 2 x 25 ml;
► oxidizer 2 x 25 ml;
► shampoo "Color protection" 1 x 10 ml;
► balm-conditioner "Color protection" 1 x 10 ml;
► instructions for use;
► a pair of gloves.
The active complex
"HairProtect"
of wheat proteins, green tea leaf extract and beeswax protects hair and scalp during coloring. The final shampoo and conditioner closes the hair cuticle scales, ensuring long-lasting color brightness.
Recommended retail price: 35 UAH
group
MODE OF APPLICATION:
Mixing ratio 1:1. Detailed instructions with precautions inside the package. Convenient and economical dyeing: for the primary dyeing of long hair, a full set of dye and oxidizer (2 + 2) is used, for short hair or regrown roots, half of the set is enough (1 cream paint + 1 oxidizer).
PACKING:
Cardboard box, hair dye and oxidizer in a sachet.
VOLUME:
Hair color cream 2 pcs. x 25 ml, oxidizer 2 pcs. x 25 ml, shampoo "Color Protection" 1 pc. x 10 ml, Color Protection balm-conditioner 1 pc. x 10 ml.
SHELF LIFE:
3 years
BARCODE:
4820147055321